We have had a great week of fun, family, and friends. Daddy is back and the girls are so happy. Cooking has become a little easier and we have started to work more on our homemade foods. The girls helped to make chicken broth, yogurt, and bread machine bread. We also prepared and froze some TVP for adding to ground meat dishes. The variety of TVP we have is chicken chunks and we would rather have ground so the girls helped me chop it. I love having helpers!
Mom's little helper.
Fruit Salad aftermath.
What you get when you give cherries to toddlers.
She plays kitchen even when visiting relatives.
A flower masterpiece.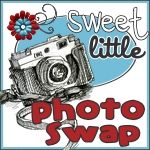 Tweet